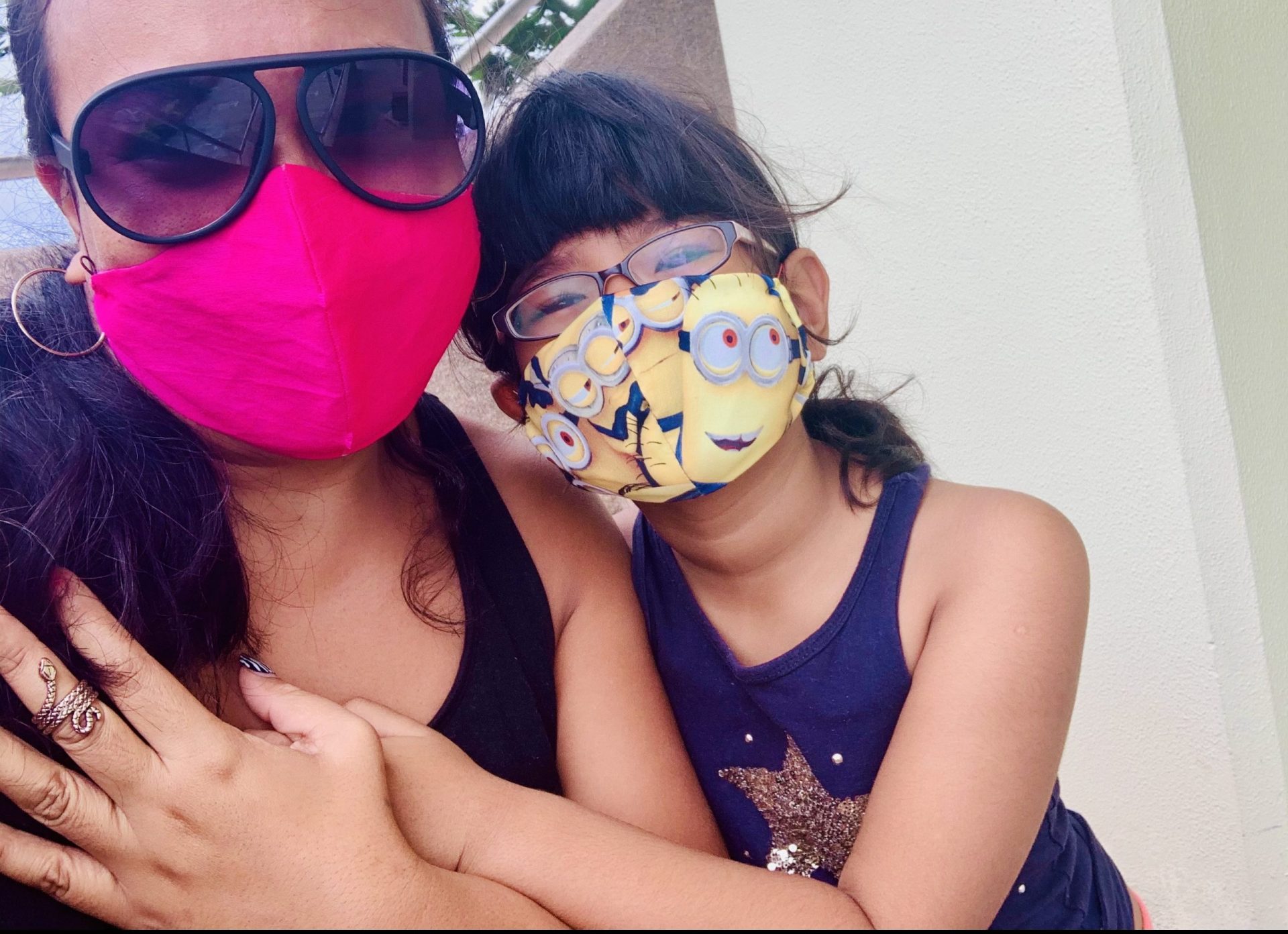 Unlearning how to work from home – tears, tantrums and small victories.
I've been described on many occasions as a whirlwind of organised chaos (you should see my desk – stacks of beautiful mess that only I understand). I like structure but also am my most focused, and possibly most productive when under pressure.
So Fiji went into restricted movement order in April to curb the second wave of this bloody pandemic. The Studio prepared for this in advance, our team often works as digital nomads so it was an easy transition for us to prepare and get into the work-from-home mode as we did last year.
Internet connection organised, new digital tools and apps installed, masks and laptops packed, clients updated, and meetings rescheduled to Zoom. I picked up Angel's Grade 1 homeschooling pack and stocked up on supplies.
Week 1 of restricted movement rolled around, and Angel and I were killing the whole homeschool game – dropping assignments before the due date, managing Angel's screen time, going to bed on time, early morning workouts, cooking new recipes, and smashing work tasks!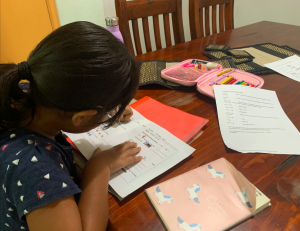 I distinctly remember the conversation I had with my team during our first Zoom meeting post-lockdown "Create a routine guys,'' I said confidently "it's a lifesaver. Seriously guys, I have Angel and I's routine written out and we stick to it.'' Famous last words! LOL because not even a week later and all my carefully laid-out plans were thrown in the trash, quite literally too, cause Mid-week Karen was ripping up that stupid list amidst tears and tantrums from both Angel and myself.
Now while I am still an advocate for routine, what the past week taught me was yes, have some sort of structure and routine but don't place all your eggs in that one proverbial basket. I mean I had my routine down pat, and I had Plan B and Plan C. What I did not plan for was if ALL else fails! And it started innocently enough with Angel fresh off of a great first week saying she was done with school, with learning, was bored with the phone, and having tantrums about me working on my laptop. This then led to a domino-type effect of distractions and disruptions. No school led to no work at all during the day, some tiny excuses made, and then a rush of guilt which led to working hours from about 9 pm to 3 am for a few days straight! Not freakin' conducive! I mean it's like if someone was watching all these scenes unfold they would be like "oh girl NO just stop!" In the midst of this whirlwind, you would expect me to thrive as I supposedly do during chaos – WRONG! Working from home is its own league of chaos.
So what are my learnings you say because that was the task this week. Write a blog about your tips and tricks for working at home. Lol and after my spiel above, it's pretty clear that I am no expert! I do however have six things I have recently unlearned so maybe it's learnings of some sort, I don't know, either way, here they are:
1. The dishes can wait
Yes keep the routine, routines are good (especially when the child is asleep at a set time so you can get your Youtube therapy), but I guess what works for me is a hybrid routine that's flexible to change which have some very clear activities that absolutely cannot be moved as it is vital for survival like work, prayer, exercise, and family time. Then also some that can wait, and some that can be juggled. And yes school is one of them (sorry teachers), kids are also going through this, and are also trying to navigate homeschooling and being away from their friends. BUT maybe like not take the whole week off from school Karen! Try again tomorrow.
2. Bet on yourself
Pandemic aside, So many things are truly out of our control and sometimes when shit hits the fan it can knock you back and rob you of your confidence, what I found rang true has been truly and honestly betting on myself, trying to control my reaction to things, trusting my decisions and cutting myself slack when I need to. It has been one of the ways I guess I could build mental and emotional capacity.
3. Bet on your team
I honestly have the best team who understand my work style and my moods and I've had to really let go of the 'I got this mentality' and to lean on them to help me pull through with work deadlines which meant letting go of some tasks that I otherwise would never bother them with, and openly communicating my struggles with time and availability.
4. Connect with your people
I definitely need first-thing-in-the-morning and throughout-the-day calls with my sister, and the winding down/venting evening calls with mum. The regular checks-ins with family and trusted friends. It's important to remember that we're all going through this together and we need some kind of normalcy and understanding especially from the people that love you, even when you're not at your 100%. It helps keep us sane and it grounds us!
5. Protect your peace
That's really all you can control. When this pandemic hit last year, I was all about checking and reading and updating everyone on the latest news, it was great but what it did for someone like me (who likes to be in control and aware of all scenarios), was keep me up late at night, stressing, worrying and crying constantly. What I am doing this time around is taking social media breaks, and being intentional about what I consume daily. I still get the rundown on what's happening in the news but a toned-down version.
6. Pause and Engage
I forget sometimes that Angel is also going through it all with me and through me. As hard as it can be working from home with a 6-year old, I count my blessings that I have someone with me during these uncertain times. She's the one thing that is certain. So we pause often to engage, say prayers together and have quick hug breaks in between the day.
I honestly am unsure what my frame of mind will be next week but I'd like to think I'll be a little more chill, probably still stressed but definitely more open to learning and unlearning.
Author's note:
Who would've thought that a mere week later I'd be editing this blog in an uncomfortable chair next to a hospital bed. Life's curveballs aye. (But this is possibly a story for another blog).